Households are taking out more consumer credit at the beginning of 2022. Some sectors are seeing a sharp increase in the number of personal loans compared to 2019, the pre-pandemic period. Which sectors are affected and why such an increase at the beginning of the year? What is the trend for credit rates? Find out in this article.
What is a consumer credit?
A consumer credit is intended to finance a defined good (car, travel, etc.), we speak then of affected credit or, it is used in a free way, for a personal loan or a revolving credit.
In this case, it is called a non-allocated loan. The request for a loan for the purchase or construction of a property does not fall within the framework of consumer credit, but rather of real estate credit, which is quite distinct. Consumer credits must finance non-professional needs and the amount of the loan must be between 200 € and 75 000 €.
Which sectors are affected by this increase?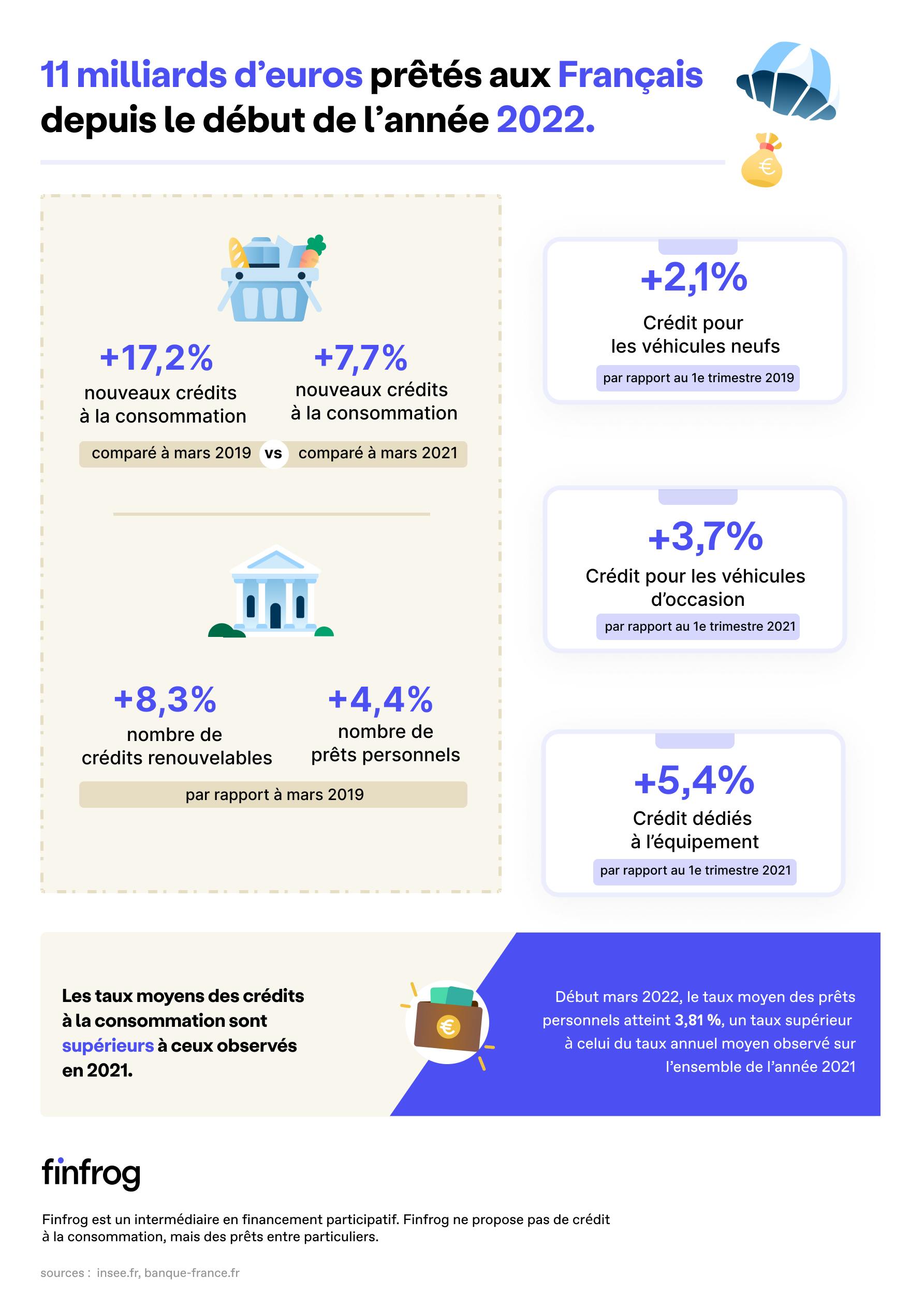 The consumer credit market is on the rise again during these first months of the year. The figures speak for themselves. 11 billion euros have been lent to the French since the beginning of the year 2022. The percentage of new consumer loans is up by +17.2% compared to March 2019, the period before the pandemic, and +7.7% compared to March 2021.
But not all sectors are on the same page. Indeed, the revolving credit and the number of personal loans dedicated to households are experiencing a strong increase. Respectively, +8.3% and +4.4% compared to March 2019. The increase proves more moderate for consumer loans related to the financing of new cars, at +2.1% compared to the first quarter of 2019.
The most plausible explanation comes from the difficulty of supply in the auto parts sector. Lending was slightly more frequent for used vehicles, at +3.7% compared to Q1 2021. Loans for equipment are on the rise, at +5.4% compared to Q1 2021.
What about consumer credit rates at the beginning of 2022?
The rates are not the only ones to go up. Personal loan rates are following the same trend.
In general, average rates for consumer loans are higher than those observed in 2021. At the beginning of March 2022, the average rate for personal loans reached 3.81%, a rate higher than the average annual rate observed throughout 2021.
One-third of personal loan demand is for cash flow needs and miscellaneous personal loans. These are the types of consumer loan applications that are most affected by rising rates.
According to specialists and in view of the current context (inflationinflation, geopolitical tensions, etc.), that consumer credit rates will remain stable in 2022, or increase, but that they will not experience the usual decreases.
Source: https://finfrog.fr/blog/hausse-demandes-credits-consommation-2022
Subscribe to the newsletter
To be informed of all the operations being financed on Raizers, please fill in the following information:
" * " indicates required fields